DHS – Durban High School – A Tradition Of Excellence since 1866
Over the 3-week July holiday, the Durban High School Boarding Establishment, Blackmore House, which is home to about 120 boys at present, underwent a much needed refurbishment. The revamp of the interior of the house was undertaken by Taylor'd Interiors, a Morningside based company that is owned and managed by Vanessa Taylor. Her vision for the house was clean, neat, tidy and modern.  The exterior of the building was completed by Gordon Verhoef and Krause, the leading specialists in building, renovation and recycling of buildings.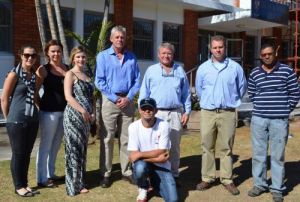 By the end of the holidays the project was near completion and was therefore handed over by the contractors to the DHS Foundation CEO, Mike Fennell, to mark the official opening.  On Sunday, at the start of this term, the Blackmore boys arrived back to a new and improved living environment, with upgraded toilets, bathrooms and dormitory bedrooms, as well as a newly refurbished reception area, prep and common room.  A few minor touch ups, here and there, and the revamp is set to be wholly completed by the end of the term.
Restoring Blackmore House to its former glory has been part of current Head Master, Mr Leon Erasmus's vision for the School. The DHS family believes that a strong and vibrant boarding house is essential and that the boys need to live in a homely, neat and safe environment – the final completion of this project will create exactly that.
Mr Erasmus would like to thank Chairman of the DHS Foundation, Mr Chris Seabrooke, CEO, Mr Mike Fennell, and the DHS Foundation Trustees for their financial and moral support of this project.  And a special thank you to the Old Boys of DHS who have contributed to the Trust for their on-going support of the School.
via DHS – Durban High School – A Tradition Of Excellence since 1866.